I had an interesting grocery shopping experience two days ago when I went to pick up some groceries at a Meijer's in Traverse City. A super blustery day, where it was a pleasure to not have a guide trip on a much-enjoyed day off, I ventured out to pick up some groceries for upcoming guide trips as well as forage for ingredients for dinner.
As I was looking for a parking spot, in the always-busy Meijer's, the friendly face of a long-time local customer of mine called out "Hello Captain!" This was a customer, Chuck, who has fished with me on two of my guide services. I have enjoyed fishing with he and his grandson, Logan, on my Traverse City Bass Guide Service, targeting smallmouth bass, and have also enjoyed fishing with he and his wife, Janis, with my Manistee River Salmon Guide Service down in Manistee, Michigan targeting king salmon.
Chuck and I chatted briefly, catching up on the fishing and life in general. It was fun running into such a nice customer, and glad to hear that things continue to go well for him in his retirement.
While getting a hot cider, a woman recognized me from my television segments on WWTV's Michigan This Morning show where they highlighted my 3 guide services and my Deep Blue Coffee Company. She asked how the fishing business was, and we spoke about a friend of hers who is a fishing guide in New Zealand. She was happy that I had been highlighted, saying that she thought that I had done a great job. Much appreciated praise, thank you!
Overhearing our conversation was a gentleman who asked about my coffee company. It turns out that this guy's family owns a coffee farm in Hawaii, and owns a coffee shop/roastery in Homer, Alaska. We spoke a bit about the coffee business, and as many of my conversations do, we also spoke about fishing. What a small world, because not only does his family own a coffee farm and shop, he is here in the Traverse City area to attend the Maritime Academy. His love is on the water, and Traverse City seemed to be a great fit for him.
Spending so much time on the water isolates me a bit, but it's days like I had a couple of days ago that remind me how small a world it actually is, and how we are all connected. Running into Chuck prompted me to put up a photo of a trip with his grandson Logan and one from a trip he had with Janis, fishing for salmon.
Thank you everybody, for making my passion my job, and for making my job such a pleasure.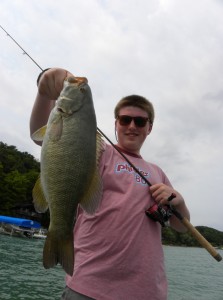 Chuck's grandson Logan with a dandy smallmouth he caught while fishing with me at Traverse City Bass Guide Service.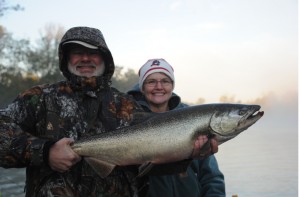 Chuck and Janis with a king salmon caught while fishing with Manistee River Salmon Guide Service.