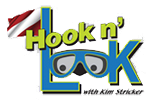 Sport Fish Michigan is proud to be a sponsor of Hook n' Look, starring Kim Stricker, which airs on the Outdoor Channel. Much more than a fishing show, Hook n' Look offers viewers a unique perspective on angling – a view from under the water! Both Kim and his son, Danny, are experienced divers and they combine their diving and angling skills to provide viewers with unparalleled information gained by experiencing fishing from both above and below the water.
Ben Wolfe, owner of Sport Fish Michigan said, "Education is a big part of what Captains and Guides offer to anglers, and understanding the underwater landscape is critical to success. This is a key premise of the Hook N' Look program, and a partnership between Sport Fish Michigan and Hook N' Look makes sense. Kim's love of his home state of Michigan only furthers this partnership. Through the Hook N' Look show, he often showcases the beauty and pristine nature that Michigan's waters have to offer."
"Sport Fish Michigan has a very similar goal: we aim to heighten each angler's experience through a keen understanding of not only the pieces of the puzzle happening above the water, but understanding what is happening below the water, as well. Sport Fish Michigan's Captains and Guides have years of experience on the water, and with our partnership with Hook N' Look, we are excited to promote the world-class fishing that Michigan has to offer on waters that Kim (and Danny) have spent countless hours on filming their outstanding show."
Visit the Hook n' Look website.