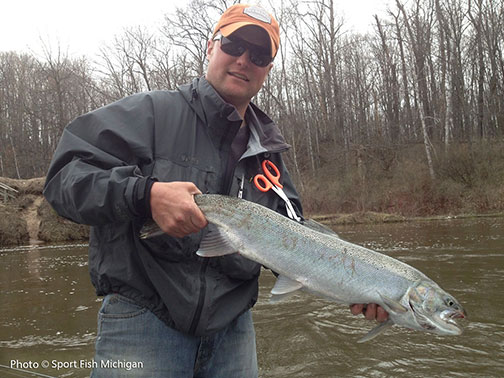 This coming Saturday is the opening of the deer season for many who hunt, and the woods will be full of people anxiously hoping for a shot at a trophy buck. A couple of recent snowfalls have hunters giddy with anticipation. Indeed, this is a great time to be hunting in the beautiful state of Michigan, as the woods and waterways are full of life. Ducks and geese are plentiful as they head south for the winter. Squirrels are busying themselves for the winter, foxes are calling out to mates, bears are on their last few feeding binges before bedding down to hibernate, and turkeys are abundant, scratching the ground for a morsel. And then, of course, there are the deer. Lots of them.
Despite much of the attention for the outdoor enthusiast now being focused on hunting, this is still a wonderful time to be on the water. Lake or river, there are some terrific options, and competition for a fishing spot is almost non-existent.
Steelhead are in the rivers now, and where it's still an open season, such as the lower Manistee River below Tippy Dam, the trout bite is fantastic this time of year. Rainbows and browns gorge themselves in preparation for the winter, and anglers can have lots of fun targeting these beautiful and scrappy fish. Lake run brown trout enter the rivers to spawn, as do lake trout in certain systems. Cured or fresh salmon spawn tied into spawn bags will get bites from all of the species just mentioned, and when the bite is on, it's easy to run out of spawn bags. Light jigs tipped with wax worms can also be a great option when fished under a float.
Those anglers preferring to fish the numerous inland lakes here in northern Michigan have great options as well. Perch are biting this time of year, as are most of the predatory species like bass, pike, and walleye. Walleye fishing is getting better and better as the days shorten, providing great opportunities for anglers fishing at early light and the last light of the day. The same goes for pike. Bass tend to feed a bit better after the sun goes up a bit. Blade baits, like the Heddon Sonar, can score extremely well this time of year, and it's not uncommon to catch walleyes, perch, and pike on these baits as well. Whitefish begin to come shallow on waters like Grand Traverse Bays, and even though the lake trout season is closed on the Bays, it's very possible to hook one of these fun fish while fishing for whitefish. Just throw them back to stay legal! Whitefish bites are usually very light, but well worth it for this outstanding tablefare.
The fall feed is on, and the bite can be downright hot, despite some of the colder temperatures associated with the opening of deer season in Michigan.