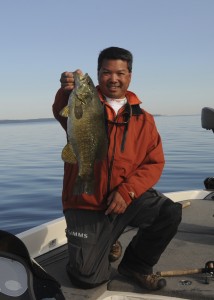 Creating Sport Fish Michigan has been a tremendously rewarding journey, and to see it come together has been awesome and humbling. Sport Fish Michigan started out as a way to attract attention from search engines for my Traverse City Bass Guide Service and Manistee River Salmon Guide Service businesses. It has since grown to be so much more – a network of the top Charter Captains and Guides in the state, and I could not be more proud.
Sport Fish Michigan, or SFM as I call it, now features some of the top Guides and charters around Michigan, all of whom I know personally. As SFM began to grow out of its humble web beginnings, I added friends of mine that were Captains and Guides, with the idea that we would share referrals to each other. We're still small, but strong. And we are growing!
SFM features Guides and Captains that specialize in almost every species that anglers want to target here in Michigan. King salmon, coho salmon, atlantic salmon, smallmouth bass, largemouth bass, steelhead trout, brown trout, brook trout, rainbow trout, walleye, lake trout, perch, muskies, pike, panfish, and even some less commonly targeted species like carp, gar, catfish, and burbot!
All of these species thrill anglers of all ages! Not only do our Captains and Guides know how to target an angler's species of choice, we have built a network that can facilitate an angler catching their preferred species using the techniques that they prefer. Casting artificial baits, vertical jigging, fly fishing, trolling, or casting live bait—SFM's Captains and Guides have the knowledge and the boats to accommodate just about anything a customer could want.
Michigan is blessed with an incredible number of lakes, rivers, and streams, and most of these are clear bodies of water that were glacially formed. With such a variety of fish species to choose from, and with such a vast choice of waters to fish in, it can be hard to narrow down which guide to choose. All guides look good on a web site full of pictures. My intent with SFM was to create a top-notch referral service that would take the guesswork out of who to book on certain bodies of water.
Sport Fish Michigan is now even a sponsor of the very popular national television show, Hook N' Look, hosted by renowned bass professional and retired tournament angler, Kim Stricker. Sport Fish Michigan is even sponsoring a local Traverse City high school bass team, encouraging the sport of bass fishing and the youths that enjoy fishing.
Traverse, Northern Michigan's Magazine had their annual Red Hot Best poll a few months back, and this year saw a couple of new categories, including the best Charter Boat Captain. The list of nominees and write-in candidates grew to an impressive length, as northern Michigan has world-class fisheries. There are lots of area guides and charters to choose from. I was lucky enough to be one of those nominated, and it was exciting to learn a month or so ago that I was one of the 3 top voted for in this new category. With the June issue on newsstands, it is an absolute thrill to finally let the cat out of the bag! Of the top 3 spots, I am actually the only Charter Boat Captain that offers fishing trips! That was a shock to me, considering how many well-established fishing charters there are in northern Michigan.
Hats off to Chien Nowland of the Nauti-Cat for garnering the top spot in this category, and to Chris West of the Ugly Anne up in Mackinaw City as well. Chien and Chris are both terrific operators of water cruises, taking customers sight seeing and sunset cruising in style. It is, without doubt, a tremendous honor and source of pride to be in the top 3, and especially to be the only fishing charter Captain.
I would like to sincerely thank all of those who voted in the Red Hot Best poll. Thank you to each and every one of my customers who have fished with me or one of my esteemed Sport Fish Michigan Captains and guides over the years, making each trip special and memorable. Many photos from our trips grace the web sites that make up Sport Fish Michigan. I would also like to thank my other Sport Fish Michigan Captains and Guides, and those that have helped us along the way. This honor isn't just for me—it's for all of us. We did it together. Thank you for all of your hard work, dedication, and for working together to make something great!