2016 Year in Review and Looking Forward to 2017
We here at Sport Fish Michigan would like to thank all the wonderful customers who graced us with their patronage this past year. We were very fortunate to have had a wonderful year catering to lots of customers across the state fishing for a large variety of species.
We had another fantastic season fishing for walleyes down on the Detroit River, and once the weather began to cooperate, experienced some tremendous fishing-boating limits for our customers almost every trip. We will be down guiding on this world-class walleye fishery again in April and early May. Our two-Captain system paid dividends again this past spring, allowing for a much smoother experience for our customers. Not only did it help to facilitate anglers' lines in the water longer, it also meant that we could net fish for our customers-something that other guides often cannot do when the conditions are tricky. We would much rather net our customers fish for them than to have our customers net their own fish. Another benefit of having two Captains is that we were able to pattern the fish that much more quickly-two heads are often better than one!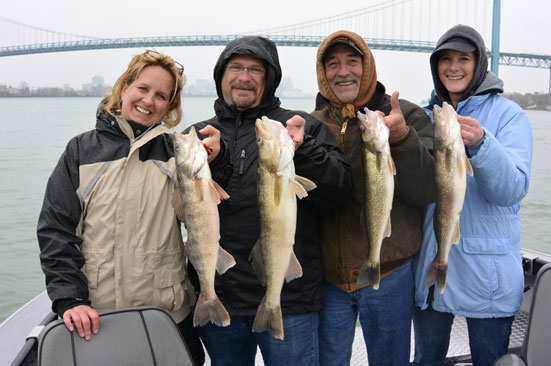 Our steelhead trips went well this past spring, and again in the fall, with some nicer than expected numbers. It seems that the extreme weather that had hurt our steelhead runs the last 2 seasons did not affect this year's run, and our customers enjoyed some spectacular days on the rivers. The Big Manistee, Muskegon, White, and the Betsie Rivers are where our guides spent the bulk of our Sport Fish Michigan trips. With the much higher numbers of fish that we saw this year, we are excited for 2017, and hope that we will see another great year on the western Michigan rivers. Captains Chad Dilts, Jeff Mallory, Ben Wolfe, Kyle Buck and Guide Scott Kubit are all experienced river guides, and we were thrilled to host not only many new customers, but lots of repeat customers as well! Whether fly fishing or conventional tackle fishing from our drift boats or a custom jet sleds, customers enjoyed great days on the water. Many of our customers got to experience fishing out of Capt. Jeff Mallory's new Stealthcraft All Terrain boat, and we are excited to also announce that Capt. Jeff is also a Stealthcraft Boats Ambassador.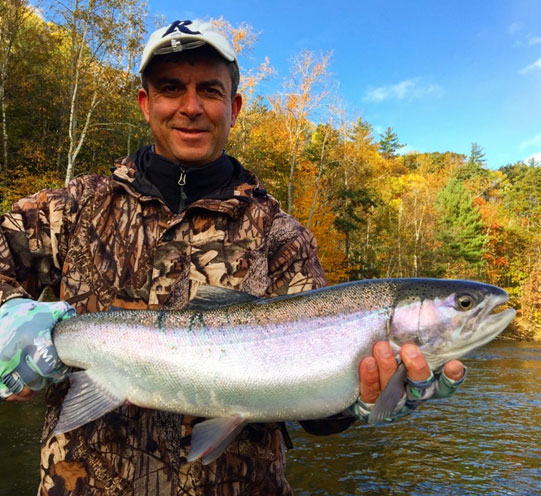 Smallmouth bass trips are a huge mainstay of Sport Fish Michigan's offerings, and we had a record number of customers plying our world-class Michigan waters. This year saw the inclusion of Capt. Chad Dilts to the full-time roster of bass guides, and Capt. Ron Dohm Jr., as well. These Captains allowed Capt. Ben Wolfe and Traverse City Bass Guide Service to offer even more trips than ever before, and customers were thrilled with the having these Captains to fish with. Ranging from Lake St. Clair to the southeast of Michigan, to Burt and Mullet Lakes to the north, and stretching west to East and West Grand Traverse Bays and the area's inland lakes, the bass fishing was superb almost all year long. Not only did we have excellent numbers of fish caught, but we also saw a tremendous average size. The fishery here in Michigan for big smallmouths is healthy, and with continued catch and release tactics, we are hopeful to see another banner year in 2017. We are seeing more pressure on our Michigan bass, and it is imperative for the long-term health of the fishery to adhere to safe catch and release practices. These are very slow growing fish, unlike bass in southern waters, and for those seeking a trophy to mount, we ask anglers to please consider a graphite replica. Not only are graphite replicas just as good looking as the real thing, in many instances they are also more practical. The additional huge benefit is the ability to release those trophy smallmouths to swim and thrill another angler another day.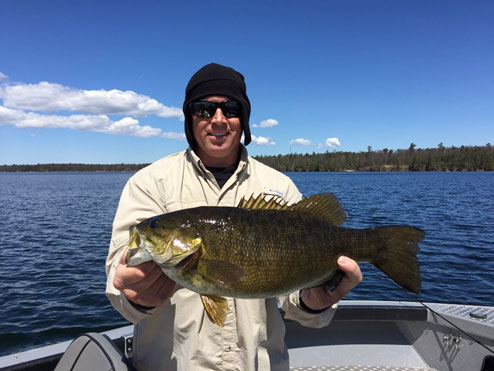 Our lake trout season was nothing short of stunning, and we couldn't have been more excited to see not only the high numbers of lake trout coming aboard, but also the quality. Capt. Adam Collett and Capt. Ron Dohm Jr. worked together as a team aboard the Mega-Bite to clobber not only big numbers of lake trout, but also salmon. The Mega-Bite is what we consider to be the premier charter boat plying the waters of Grand Traverse Bays. Capt. Adam specializes in trolling, and he and Ron put countless customers on some truly awesome fishing. For those that vertical jigged with Sport Fish Michigan, Capt. Chad Dilts and Capt. Ben Wolfe had some equally spectacular fishing. This hands-on technique is a great way to experience these feisty fish for those anglers who prefer to have a rod and reel in-hand. Lots of fish over 10 pounds were boated during these jigging trips, and these Captains knew right where to find the fish. With excellent numbers of lake trout in Grand Traverse Bays and out of the port of Frankfort and Platte Bay, the outlook is looking like we will have another spectacular year in 2017.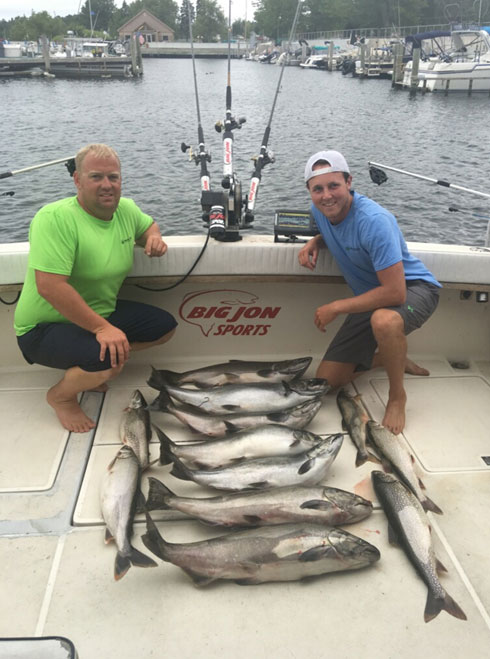 One of the most fun things we at Sport Fish Michigan began doing this year was to specifically target cisco (lake herring or tulibee). These fish are a relative of the whitefish, and are an outstanding gamefish on rod and reel, are aggressive biters, and are truly awesome to eat. Spring and fall are the prime times to target these fish and that's exactly when Sport Fish Michigan targeted them. In fact, with such high numbers in Grand Traverse Bays, these may be the perfect fish to target for anglers looking for a fish that pulls hard and doesn't know when to quit, as well as anglers who just want to boat high numbers of fish. Capt. Ben Wolfe calls them "velociraptors with fins" because they are so aggressive.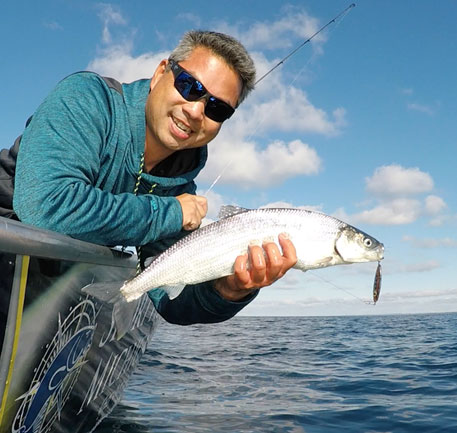 Sport Fish Michigan's salmon season was exceptional both on the big waters and on the rivers. Grand Traverse Bays, Platte Bays, and Betsie Bays all produced outstanding fishing for king salmon and coho salmon. The area rivers also had equally fantastic fishing, and we are super excited for what next year's run already. Trolling on the Grand Traverse Bays was great, with high numbers of fish present. Mega-Bite, with Capt. Adam Collett at the helm, was the hot boat on the Bays. Vertical jigging had its share of phenomenal fishing as well on Grand Traverse Bay, Platte Bay, and on Betsie Bay. Both species of Chinook salmon and Coho salmon ran larger than last year, and with much higher numbers-our customers were thrilled with full coolers on many days. Capt. Chad Dilts and Capt. Ben Wolfe were lucky enough to put its customers on fantastic numbers of salmon using this highly effective jigging technique. While some old-school anglers consider this to be a snagging technique, these two Sport Fish Michigan Captains will not only attest to its effectiveness at getting bites, but they take affront to it. They would love nothing more than to show everybody just how potent this technique can be at getting king and coho salmon to bite. Next year's run is promising to be just as good, although it is an unknown how things will be beyond then.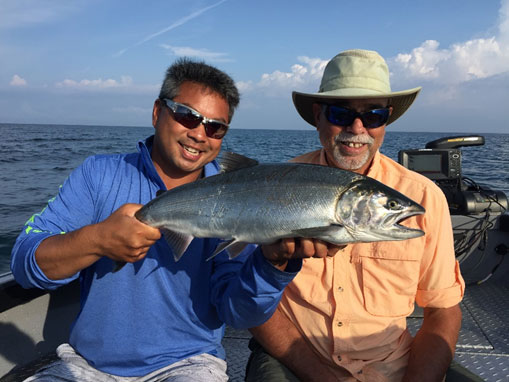 River trips for salmon went extremely well in large part to Capt. Jeff Mallory doing his thing as a premier river guide. He is well versed in not only fly-fishing techniques, but also in conventional tackle. Capt. Jeff is an accomplished fly tyer, and many of his own patterns are on display when he guides. Captains Chad Dilts and Kyle Buck also did a lot of river trips this past fall for salmon, and we are thrilled with the results.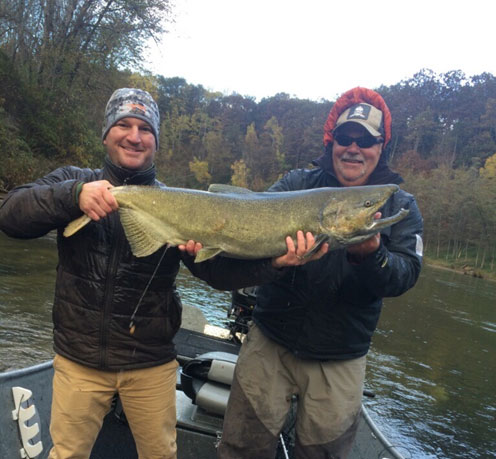 Ice fishing has become a large part of the Sport Fish Michigan business, and there is no slowdown in growth in sight. With customers coming from as far away as Florida, California, Puerto Rico, and even Brazil, we have quickly grown into the largest guided ice fishing operation in Michigan. We are very proud to not just be able to take customers out onto the ice, but to set them up with some of the best equipment in the ice fishing market. Each customer fished from within a heated Otter Outdoors thermal shanty outfitted with Marcum electronics. All the tackle and bait was also provided, meaning that customers had everything necessary for a fun day on the ice. With transportation provided for them as well, we prided ourselves on a top-notch service. For 2017, we are proud and excited to announce that we have partnered with Humminbird, and will be offering our ice customers use of the brand new Humminbird Ice Helix 7 sonar units. These are truly awesome electronics, and we are excited to showcase this to our customers on the ice. These are the best units on the market, and we at Sport Fish Michigan are proud to offer use of these units to our customers. Last winter was warmer than the previous two, and we had to travel quite a lot to stay on the good ice. Fishing for a variety of species, we guided trips for walleye, yellow perch, northern pike, bluegill, crappie, lake trout, and even burbot!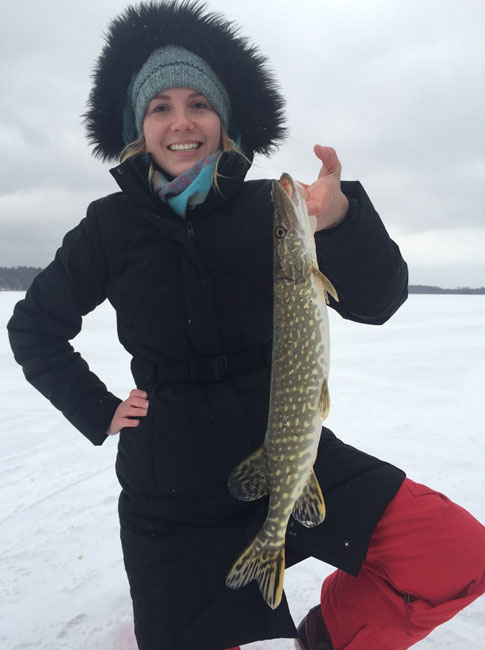 2016 also saw a great partnership with two television shows. Hook n' Look was sponsored by Sport Fish Michigan again, and in this past year's television show we fished with Kim Stricker out on Platte Bay for coho salmon. We had a great day on the water fishing for cohos with Kim, as he had the opportunity to experience the thrill of sight fishing for these amazing fish in the crystal-clear waters of Platte Bay. Sport Fish Michigan is once again sponsoring Kim's show, and in the show that will be airing this coming winter on the Outdoor Channel, Capt. Ben Wolfe fishes alongside of Kim for smallmouth bass.
Angling Buzz television show was a new show produced by Lindner Media. The Lindners are icons in the industry, and it was a pleasure being on each of the 13 episodes, giving the state-wide fishing reports every week. While the weather forced us to abandon our hosting and filming with Al Lindner several times in 2016, but we are scheduled for filming two shows next year, in 2017. Sport Fish Michigan is set to sponsor this new and upcoming show again for the new year, and will once again be bringing weekly fishing reports covering the entire state of Michigan. Regular web-published video fishing reports are also going to be featured on the Angling Buzz web site. Anglers looking for an idea of what is biting can tune in or look up the Angling Buzz web site to learn more about what is happening state-wide in Michigan during these timely updates.
With so many species to target in the state of Michigan, there never seems to be enough time to be able to target them all. From smallmouth bass to salmon; yellow perch to walleye; lake trout to cisco; whitefish to panfish; steelhead to brown trout, not to mention our awesome musky and trout fishing. So many fish to chase, and so little time to do it-even for us! This is what Sport Fish Michigan is all about-staying on top of the various species of fish throughout the state to give customers the best experience we can. By taking the guesswork out of hiring a Captain or Guide, we aim to provide our customers with the best in the business using the best equipment possible. If our growing business is any indication, we think we are on the right track, and with so many customers coming back as repeat customers, we are confident that we are doing things right. From all of us at Sport Fish Michigan, we extend a very humble and heart-felt thank you. Thank you for a wonderful 2016 season. We look forward to hopefully having the opportunity to fish with all of you in the future.